This post is part of a series answering frequently asked questions about words, processes, phrases, fees and other aspects of the transportation and logistics industry.
If you're looking for a way to invoice and collect lumper and other accessorial fees, connect with us to learn more about RoadSync Checkout

Who are Lumpers?
Lumpers are critical to the freight and logistics industry. Drivers and warehouse workers have most likely delivered or received freight from lumpers. Their role may not be widely understood, however. Here, we hope to shed some light by defining what a lumper is and what you can expect at the dock door.
What Is a Lumper?
A lumper is someone who unloads cargo from a truck when it arrives at a warehouse. These are often third-party individuals who are hired by a warehouse or shipping company to provide the labor and experience required to move large amounts of freight daily. The origin of the name is murky. Some say the word started from workers carrying "lumps" of cargo. Others believe that it refers to the slang "lumping" of carrying heavy loads. Others insist that the name came from the back injuries workers incurred after unloading too many pallets.
Again, lumpers are usually third-party individuals who are often hired by a warehouse or shipping company to provide the labor and experience required to move large amounts of freight daily. However, not every company hires lumpers. Lumpers are most often used by food and grocery distribution warehouses across the country. Unloading perishable or frozen cargo requires special handling that lumpers are specifically trained to accomplish quickly and accurately.
What Does a Lumper Do?
A lumper's main responsibility is to unload cargo quickly, efficiently and carefully. Yet, they're also responsible for placing cargo inside the warehouse in an organized manner and other tasks such as tearing down boxes. When a truck arrives at a warehouse, the lumper takes over to unload the cargo. This may require the use of equipment such as pallet jacks, hand trucks (dollies) and even forklifts, if necessary. While the lumper unloads the truck, this allows the trucker to catch a few moments of rest before getting back out on the road. It also helps speed up the shipping process, which benefits all parties involved, including the trucking company, the warehouse staff and the distributor of the product.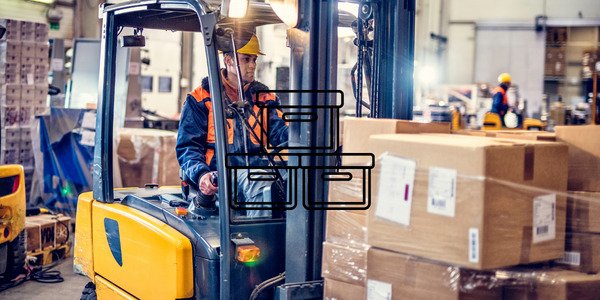 CAN DRIVERS UNLOAD THEIR OWN TRUCKS??
Truck drivers can unload their own trucks if their trucking company allows them to do so. And some truckers get paid to unload their trucks themselves. Unfortunately, truckers can become injured and miss out on critical rest if they choose this route. For liability reasons, some carriers choose not to allow their drivers to unload their own freight. In these cases, lumpers are used instead.
If you are a truck driver, it's best to reach out to your company with questions about the lumper process.
The Basics of Lumper Fees for Logistics Professionals
Lumpers charge fees for their services, as they should. After all, they're doing a lot of the heavy lifting (literally). Whether you're a trucker or another logistics professional, it's best to understand this particular type of assessorial fees, so you can be prepared.
WHAT IS A LUMPER FEE?
What is lumper fee—this might be a common question for someone new to logistics. Lumper fees are the charges assessed for unloading the cargo from a truck. And since lumpers are often third-party entities, it isn't the warehouse or distribution company's responsibility to ensure that a warehouse lumper is paid. Instead, lumper fees typically fall to the truck driver to make lumper payments to unload freight.
HOW MUCH CAN YOU EXPECT A LUMPER SERVICE FEE TO BE?
Lumper fees vary depending on the amount of work and hours the lumpers put into unloading the cargo. A average lumper fee can range anywhere between $100 to $500 and is impacted by the size and type of load. On average, a lumper fee is around $300.
Because lumper fees are often paid upfront by truck drivers, it is important for them to understand how to handle lumper fees. In most cases, lumper fees are calculated based on the weight of the cargo and the time it takes to load or unload, and therefore may also be charged via an hourly rate.
Even though drivers make the lumper payments initially, the lumping fees are often passed on to the shipper via final invoicing from the broker or carrier. Because of this, it is important for a driver to get a lumper receipt for any lumper fees paid.
What is a lumper receipt?
Lumper receipts may be paper or digital documents outlining the date, time, and amount of the lumper fees as well as a description of the services provided by the lumper service. Drivers should keep their lumper receipts in order to submit for reimbursement by the freight broker or carrier. A lumper receipt can also be used to back up expenses incurred during shipping, as well as come in handy if there is a need to file an insurance claim or dispute charges.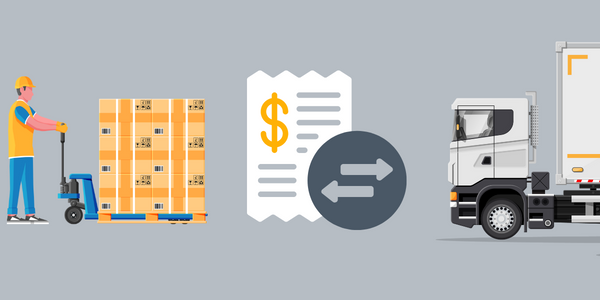 HOW TO PAY LUMPER FEES? AND WHO PAYS FOR THE LUMPER SERVICE FEE?
Lumper fees include the labor for lumper workers to unload the freight from a trailer as well as any additional tasks beyond unloading such as sorting cargo, especially important for food warehousing companies, and for the reload of the truck trailer. Once an unload and load (if applicable) is complete, typically the truck driver pays the lumper, secures a lumper receipt to be used later for proof of lumper payment to receive reimbursement from their trucking company.
The driver can pay for a lumper service fee using fleet checks, fuel cards, credit cards or even cash. In a perfect world, the truck driver knows in advance what the lumper fees might cost and how to pay lumper fees easily via a previously determined method with their broker or carrier.
Unfortunately, a lumper service fee can vary so greatly from one location and third party lumper service to another, that it can be difficult for drivers to know in advance the exact cost of a lumper service fee. But knowing that a driver will likely incur a lumper service fee, drivers and their trucking companies or broker can plan for how to pay lumper fees.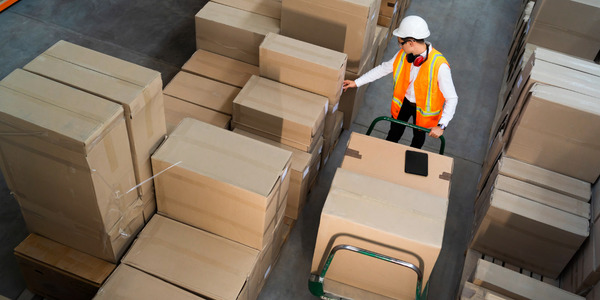 WHY ARE LUMPERS STILL USED?
Put simply: lumpers save companies and distributors millions each year. Instead of hiring their own internal warehouse staff, they hire third-party individuals, which reduces labor costs. For example, by using third-party help, they don't have to pay payroll taxes or for workers' compensation insurance. Also, some carriers would rather pay lumper fees than pay increased insurance premiums or liability payments for risking driver safety by unloading their own freight.
WHY IS THERE NEGATIVITY SURROUNDING LUMPERS?
Lumpers are often seen in a negative light within the industry. In an industry where time is money, adding anything else to the supply chain can cause people to worry about delay. Most of the time, the negativity around lumpers has to do with their work. Some drivers object to the concept of a lumper fee. More often, truck drivers and trucking companies are unhappy with the fee payment process.
The Commercial Carrier Journal notes that carriers cover lumper fees and then get reimbursed by the shippers. This process is ultimately less expensive for shippers because they pay the carriers instead of incurring more administrative and overhead costs by processing those costs in-house.
Some carriers still use paper checks and cash, which results in an overwhelming number of fee receipts for drivers to track.
Unfortunately, this means truck drivers will often need to wait for their reimbursement. Some drivers may not even get paid at all. Luckily, technology continues to improve, and truck drivers can instantly accept contactless payments via mobile devices. And some platforms, such as RoadSync, provide instant documentation of fees and digital receipts to shorten payment time.
Invoice and Collect Lumper Fees More Efficiently
Get paid faster with RoadSync Checkout. Request a demo.
LUMPER FAQS
Here you'll find answers to frequently asked questions about what is a lumper, how lumper companies work, what is a lumper fee, how to pay lumper fees and what is a lumper receipt.
What is a Lumper? A lumper is a person who is hired and paid to load or unload cargo from a truck. Lumpers are often used in situations where it is not possible or practical to use a forklift, such as when the load is too large or when the truck is parked in an area where a forklift cannot reach. Additionally, lumpers are used in cold food storage warehouses, where it is critical to unload, sort and load refrigerated freight quickly and efficiently.
How do lumpers work? Lumper service definition: Lumpers are typically a third-party logistics service that helps warehouses manage their inbound and outbound freight. Lumper services may be hired on an as-needed basis or as part of an on-going agreement or contract. Lumper services typically charge by the hour or by the job. Lumper services may include the unloading and reloading sorting and moving of freight.
What are Lumper fees? Lumper fees are a type of fee that is paid to a lumper for lumper services such as unloading and loading freight from a truck. There are typically three different types of lumper fees: per-item, per-pallet, and per-hour. Theper-item fee lumper fee, is charged based on the number of items that need to be unloaded. A per-pallet lumper fee is charged based on the number of pallets that need to be unloaded, while a per-hour lumper fee is charged based on the amount of time it takes to unload the merchandise. Lumper fees can vary depending on the lumper and the situation. If you are hiring a third-party lumper service, it's important to agree on the type of lumper fee and how lumper fees will be charged before hiring a lumper.
How to pay lumper fees? Truck drivers will usually pay lumper fees on-site when delivering freight to a location. Lumper fees are typically reimbursed by the trucking company, carrier, or broker and in some cases the shipper. Depending on how lumper fees are invoiced and the payment types accepted by the lumper or warehouse, a driver may have to pay out of pocket with cash, or a debit/credit card, or may be able to use a company issued credit card, fuel card, or leverage a fleet check. In some cases, the driver's broker or carrier may pre-authorize funds via payment code or fleet check via a solution like RoadSync Advance. Regardless of what payment method is used, it is important for truck drivers to keep good records, track all expenses and ensure he/she get a lumper receipt to submit for proof of lumper fee payment or reimbursement.
What is a lumper freight? Lumper freight is a type of shipping that may involve items that are not palletized or containerized and require a special worker, a lumper, to load and unload these types of deliveries. Lumper freight is a term used to describe freight that requires the use of a lumper. This type of freight may be large or heavy and can be difficult to move without assistance. Common lumper freight and the use of lumper services is also typical with the movement of cold storage and refrigerated goods such as food, and medical supplies.
What is a lumper receipt? A lumper receipt is a document that lumper services provide as proof of payment for various lumper fees charged during the loading and unloading of freight, typically perishable goods that may require refrigeration and efficient, expedited handling. Lumpers are hired to unload these types of shipments, and the lumper fee covers the cost of their services. Lumper receipts usually include the date and time of service, the lumper's name, the company that hired them, and the total lumper fee charged. Some lumper receipts may also include additional details about the shipment, such as the type of goods unloaded or the destination of the shipment.