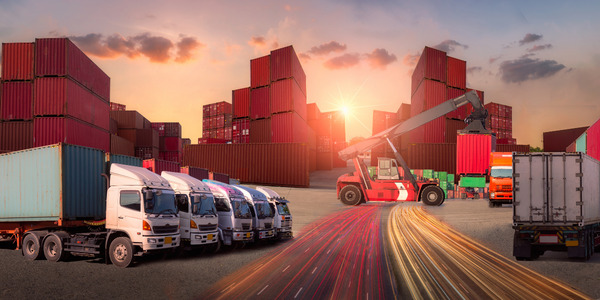 In several ways, the 2020 pandemic exposed and exacerbated the vulnerabilities within global supply chains. From raw materials to final delivery, the movement of goods has come under unprecedented strain.
It's even become the focus of The White House and Biden-Harris Administration, who have been strategically addressing supply chain vulnerabilities and congestion, working to speed up the movement of goods. They are doing this through an initiative called Freight Logistics Optimization Works (FLOW), designed to digitize key freight information exchanged between independent parties along the supply chain.
According to Jim Tompkins, experienced Supply Chain Management Consultant, "…disruption is the new normal. Many still hope for the "good old days" or a new, stable normal. As we move forward, we need optionality, not optimality. The ability to optimize a perfect supply chain no longer exists. Supply chain networks need agility, speed, and resilience."
Is it possible that supply chains could ease once the industry adopts digital payment processing and stronger logistics partnerships? In this article, we explore that possibility.
How Logistics Industry Payment Solutions Ease Supply Tensions
According to Supply & Demand Chain Executive, "the supply chain industry is starting to see increased access to financial solutions and products that are specifically made for it. This is critical, as one-size-fits-all technology doesn't work when it comes to finances and business operations, especially for an industry as robust and diverse as the supply chain."
Businesses within a supply chain slump need optionality; not perfection, as the industry heals and moves forward. Businesses can avoid issues in the future by studying the current supply chain crisis and finding specific-technology solutions to prevent similar mistakes.
While businesses cannot digitize every aspect of their system, nor single handedly fix all problems in the global supply chain, they can locate local problem areas and use emerging tech solutions to lessen these difficulties.
To enable companies to move at the speed of customer demand, logistics businesses must adapt to an ecosystem of digitization –– starting with payment processing.
For an industry that has an accessibility problem when it comes to best-in-class financial solutions, the answer lies in an open payment network solution, tailored specifically for the logistics industry.
Transitioning to digital payments and processes not only improves efficiency, but it also lightens employee burdens and guarantees that every important detail is recorded throughout the supply chain. A transition to digital payments isn't simply about eliminating the trouble of checks; it also reduces reliance on paper overall. Paper invoices, manual data entry, storing outdated paper records, and reducing touchpoints that expose human error or theft are all examples of this.
The low cost of switching to digital payments is quickly compensated for by the return on investment that comes from speed, efficiency, accuracy, and revenue leak prevention. The worldwide supply chain may be able to improve financial monitoring with adaptable, digitized payment processing in place, allowing for the removal of unnecessary bottlenecks.

How Strong Industry Partnerships Solidify Better Solutions and Outcomes
When one company in the supply chain improves, it has a positive domino effect on the entire system. It also sets a new standard forward toward innovation. That's why partnerships and collaboration among businesses within the supply chain are essential.
For example, RoadSync is here to help logistics companies evolve into using a faster, more flexible digital payment process. To accomplish this goal, we partner with industry leaders to provide custom solutions, consulting, and strategic alignment.
For example, here are the different integration partnerships that RoadSync offers:
Integration Partners

Referral or Reseller Partners

Consulting Partners
Each of these partnerships comes with its own set of perks, but the overall goal is to help logistics companies move away from an outdated system –– one that causes bottlenecks, errors, and inefficiencies –– and into a new era of digital payment processing.
Some of RoadSync's partners include WEX, EFS, Comdata, Fleet One, Ambest, and FYX Fleet. Are you ready to become a partner?
Moving Forward Together
The supply chain industry is finally being acknowledged by the financial world and given access to products that are tailor-made to its needs. This is important because one size does not fit all when it comes to finances, especially for an expansive field like logistics.
Together, through strong industry partnerships and purpose-built solutions, we believe that it's possible to ease supply chain tensions in the coming years. Companies not ready for this shift or to collaborate may be left behind.
The good news is, it's not too late to pivot and the experts at RoadSync can help you transform your payment processing and navigate the changing supply chain landscape. You can also apply to become a partner with us, and we'll gladly welcome you to the RoadSync ecosystem.
What's next? Subscribe to our newsletter to stay in the loop of what is happening with RoadSync, our partners, and our latest news!