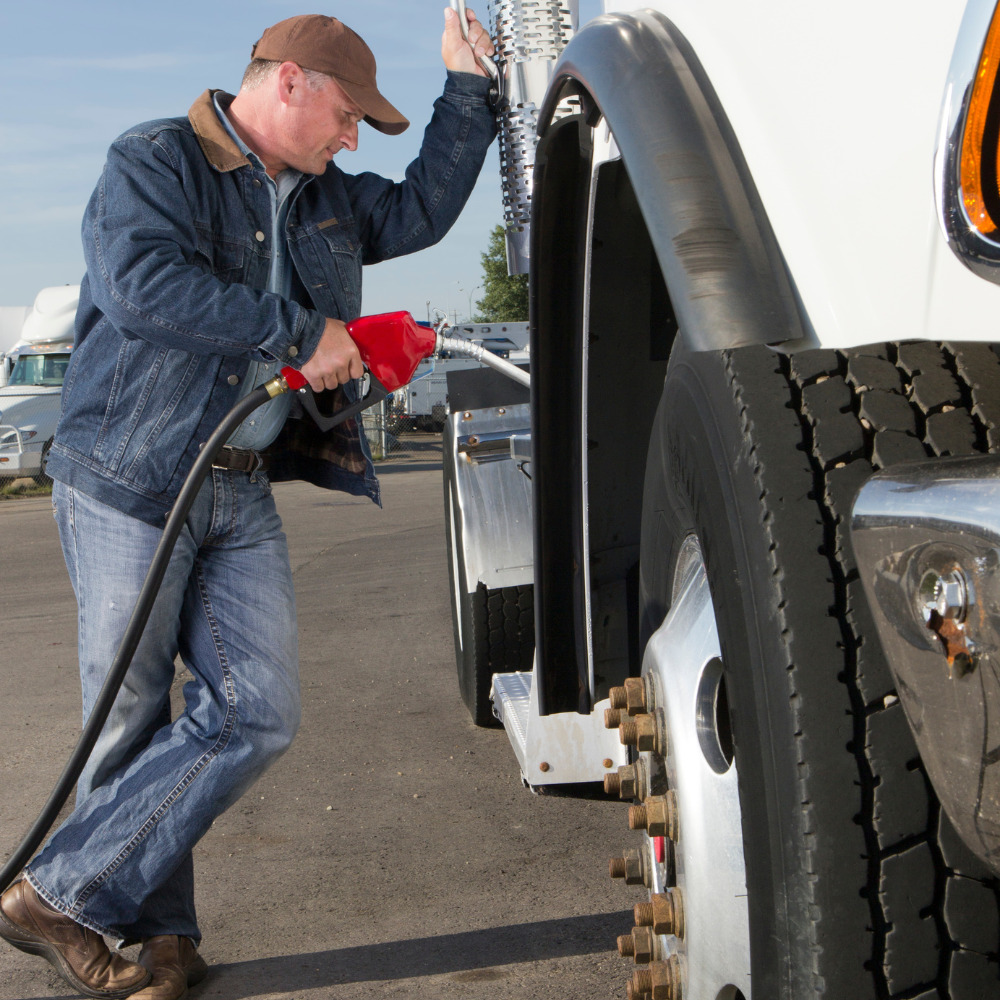 More About Comcheks
How to Use Comchek
A comchek is type of payment primarily used in the trucking industry and requires the payer, typically a broker or carrier, to have an account with COMDATA. Comcheks provide a payment method for drivers and carriers to pay for various charges and accessorial fees they incur over-the-road.
To use a comchek, a truck driver's broker or carrier must have an account with Comdata. The driver will need to provide a blank paper comchek and/or the express code, a sequence of 14 to 18 digit numbers that are associated with a pre-authorized amount of funds. Comcheks can be used at certain locations such as truckstops, warehouses and banks that are equipped to accept this method of payment. Comcheks can be used to pay for fuel, vendors, or repairs and even provide cash advances. In order to process a comchek, it is often required to call Comdata or visit their website in order to obtain the authorization number.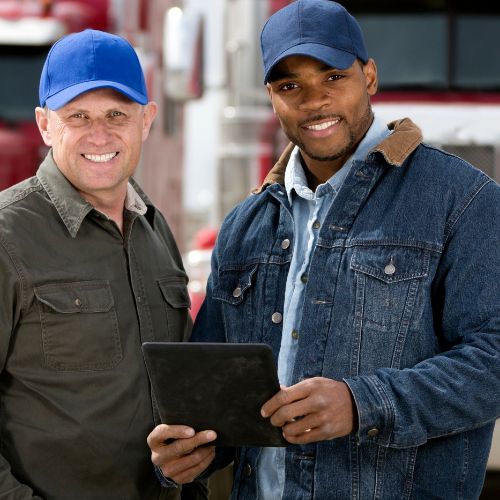 Instant Funds for Truck Drivers
On Demand Payment Services
Truck drivers need access to funds easily and quickly while on the road to pay for various fees and charges. Industry standard payment methods like Comdata comcheks provide a means to authorize funds fast and track and manage driver expenditures.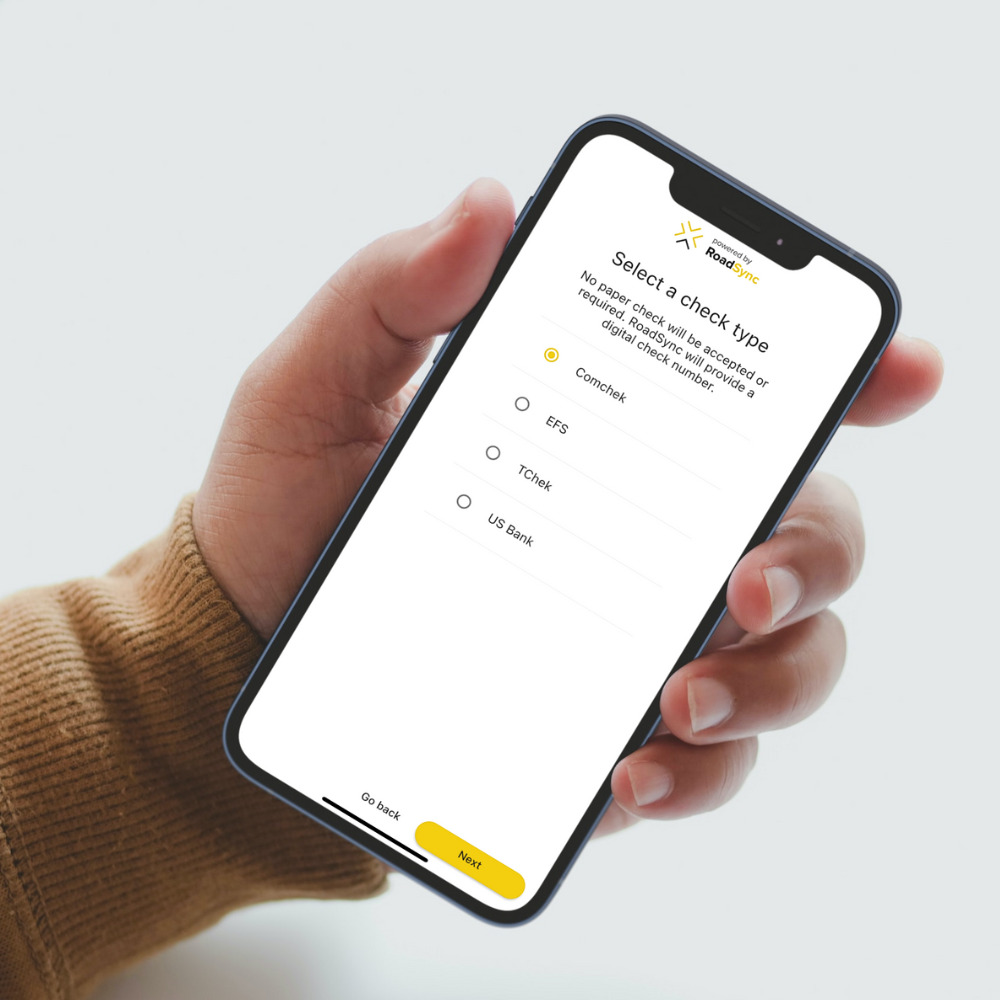 Comchek Alternatives
What is RoadSync Checkout?
While comcheks are commonly used in the trucking industry, there are still challenges associated with keeping track of and managing paper-based checks that can cause delays and human error. That's where RoadSync Checkout comes into play. Rather than creating a new payment method, RoadSync Checkout expands payment options for truck drivers and their carrier or brokers by integrating industry standard and common payment methods into one digital payment platform ensuring payment transactions are easier and faster. 
RoadSync Checkout is a digital payment solution built for drivers, warehouses, lumpers and heavy duty repair and tow operators working in trucking and the logistics industry. Turning what traditionally has been complicated into a hassle-free transaction, RoadSync Checkout allows you to make or process logistics payments in seconds whether it's a fleet check–i.e.  comchek or EFS check–, credit card, fuel card or other form of digital payment. 
RoadSync Checkout helps automate and streamline comchek trucking payment transactions reducing friction, time and human error often associated with express code authorizations and approvals. With RoadSync Checkout, payments are made easier, transactions process faster, vendors get paid quickly and drivers get back on the road.
FAQs
What is a Comdata Comchek? Comdata comcheks are usually a type of paper check used by shippers, brokers, carriers and truck drivers in the trucking industry. Comcheks are used to make payments for services and fees such as fuel, lumpers, etc. A Comdata comchek is similar to a regular paper check but incorporates a special code called an express code made of a string of 14 to 18 numerical digits used to associate predetermined funds for authorization and tracking.
What is Comchek payment? Comchek is a payment system that is often used by trucking companies. Comdata Comchek is the brand name for Comchek payments that are processed through Comdata, a leading provider of financial transaction services for the logistics industry. Comdata Comchek payments are safe and secure, and offer many advantages for both trucking companies and drivers. Drivers can make payments quickly and easily via a comchek by obtaining and providing the unique express code assigned by Comdata and use pre-authorized funds to pay for fuel, repairs, and other expenses and accessorial or lumper fees. Trucking companies can save time and money by using Comdata Comchek to process driver payments as well as track over-the-road driver expenses and reduce fraud,
How do I withdraw money from my Comdata card? If a trucking company has a Comdata account, they can issue comdata cards to manage and track driver spending. A Comdata card works similarly to an ATM or debit card. To withdraw money from your Comdata account, simply log into your account online and choose the "Withdraw" option. From there, you'll be able to select how much money you want to withdraw and whether you want to receive it via direct deposit or Comchek. Comdata also offers a Comchek Mobile app that allows you to manage your account and withdraw funds on the go. With the app, you can find nearby Comdata ATMs and check-cashing locations, as well as track your account balance and transaction history.
How do I activate my Comchek? To activate your comchek, the first step is to ensure that a Comchek account is set up with Comdata. Once set-up, each time a comchek is used, the payer, driver or recipient will need to call Comdata, who will povide the trucking company with a Comchek number. This number is then used to activate the Comchek. After the Comchek is activated, it can be used to pay a driver, vendor or merchant such as a warehouse or lumper for various fees and for fuel. Drivers may also use the Comchek to get cash back at Comdata's ATM locations. Comdata's ATM locations are located in Truck Stops across the United States.
What is Virtual Comchek? Virtual Comchek is Comdata's latest payment method for sending payments to drivers digitally. Trucking companies can issue funds from iConnectData to drivers wherever they are at any time of the day. Usable at millions of locations nationwide in the US as Virtual Comcheks are processed through the Mastercard® Newtork.
What are Comcheck alternatives? Comchek alternatives may depend on what you are trying to achieve, Wex EFS is another alternative fleet check and payment solution. Additionally, RoadSync has various solutions that integrate and work with Comchek to streamline issuing and pre-authorizing funds as well as the ability to make and process fleet check payments such as RoadSync Checkout and RoadSync Advance.
What is RoadSync Checkout? Roadsync Checkout is a digital payments platform offered by RoadSync that creates an easy and convenient way for businesses and drivers in the trucking industry to accept and make payments. Warehouses and other merchants such as repair and tow operations can send payment links directly to driver via text or email with various payment methods ranging from fleet checks—Comchek, EFS—to credit or debit cards, fuel cards, cash, etc. Drivers simply select their preferred or authorized payment method via the link received to on their phone. Then pay, get their digital receipt and are back on the road. What Our Customers Say
"RoadSync provided us with collection visibility we've never had before. The ability to accept credit cards and process payments remotely has been especially beneficial amidst the pandemic. Removing associate barriers with technology is always a great thing!"
— Chuck Graefen, Senior Director, Distribution Support
KeHE Distributors, LLC
"The layers of protection and ease of use have allowed us to better track our performance as well as protecting our revenue from the fraudulent card users. Customer service is excellent and lightning fast. Thank you all!!"
— Heidi Vantreese
Owner
"It's very useful for keeping track of expenses. The menu contains the right expense type. It's all detailed and set up perfectly. The attachment is sent to the accountant of my employer because all payments are handled by the accountant."
— Cedric
"The new setup went great. The driver was very pleased with how easy it was. We can't wait to get the rest of the locations up and running."
— Dairyland Transportation, LLC