There is a multitude of choices when it comes to selecting a payments platform. Choosing a payments platform software is essential to running and growing your business's bottom line. A payments platform simplifies the checkout process for you, your technicians, and customers, whether roadside or at the shop. It's important to remember not all payment platforms have the same capabilities for your business needs. Many small businesses across the U.S. use popular platforms like Square or Paypal, which was built for everyone, meaning any small business can use this system, whether a coffee shop, hair salon, dry cleaner, the list goes on.
But why use a tool built for everyone when there is a payments platform built specifically for heavy duty repair and tow businesses, like yours, that understands and helps protect against the obstacles you regularly face roadside? A platform built for everyone can't accept fleet checks, help fight chargebacks, or give you customer support 24/7, but RoadSync Checkout is built to do all this and more for your heavy duty repair and tow business.
Top 6 Reasons Heavy Duty Repair and Tow Merchants Choose RoadSync Checkout
1. Digitally Accept More Payment Types Including Fleet Checks
Let's start with the most essential piece to your business: accepting payments! With a generic platform, you're able to accept common payment types that are in everyone's pocket; however, RoadSync Checkout allows you to accept even more payment types specific to our industry, including fleet checks.
Not only can you accept Fleet Checks with RoadSync Checkout, but you can also now digitally accept fleet checks with instant notification of acceptance without a single piece of paper or phone call. That's right! You can effortlessly accept fleet checks from your customers without the hassle of a physical fleet check or a single call to verify an express code. Even better, you'll know instantly when the fleet check is accepted or rejected through RoadSync Checkout.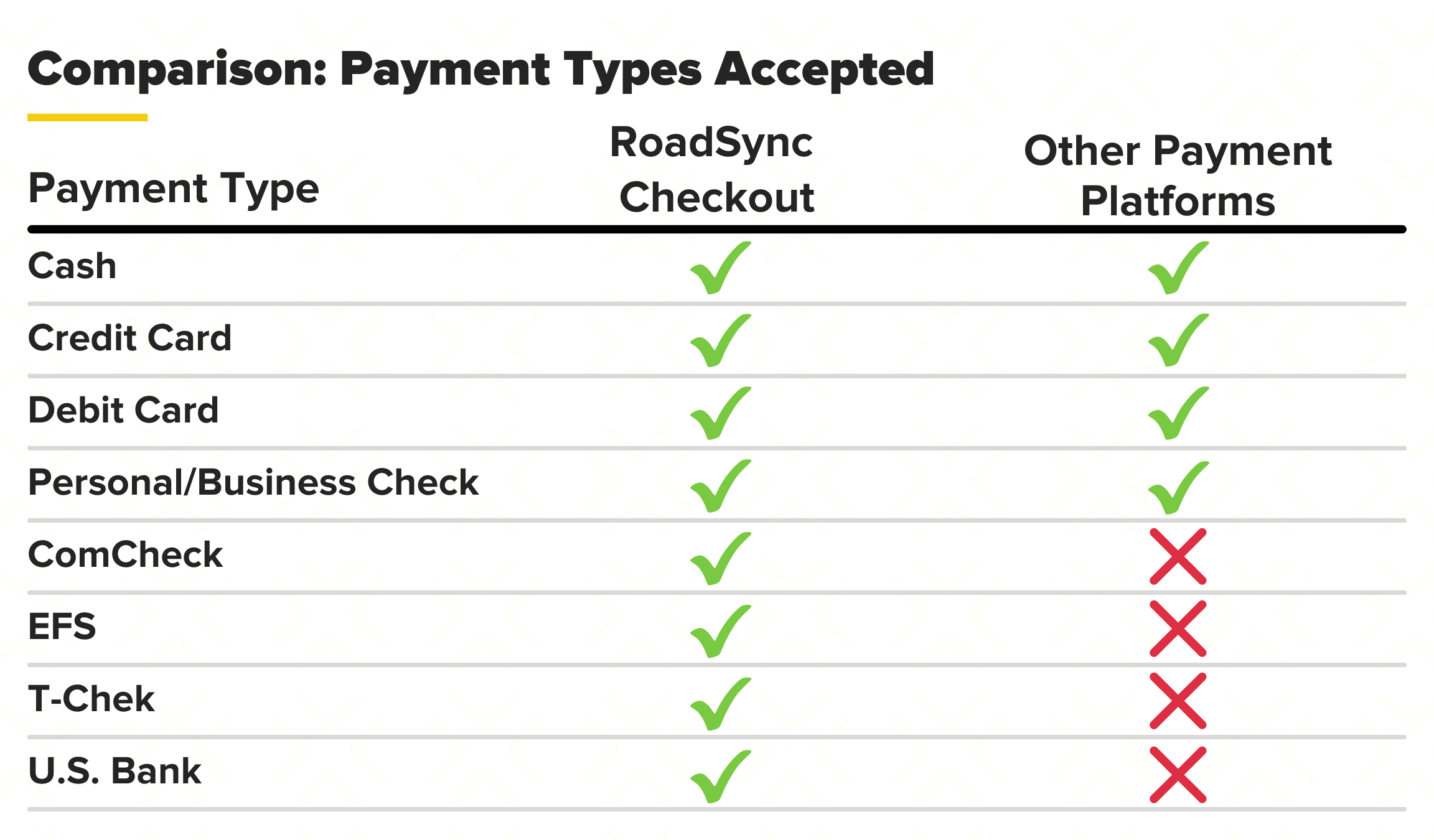 2. Eliminate Card-Not-Present Transactions 
It's common for a trucker to break down on the side of the road, and when it comes time to get paid, you learn that they are not paying, so the next step is to get the credit card over the phone. This leaves you at risk of being hit with a card-not-present transaction, and if you've experienced one, you know first hand it can be costly. Remote Checkout, one of our most popular features, allows you to collect payment from your customer. It enables you to accept credit card and fleet checks remotely.
3. Help Protect Against Chargebacks
Another factor to consider when selecting a payment platform is that chargebacks are unfortunately common in the logistics industry. General payments platforms have many benefits, but fighting chargebacks is one that they do not offer. Included with your RoadSync Checkout platform, you'll have our team of experts ready to help you fight your chargeback.
4. Increase Callouts with Free Advertising on BigRig411
BigRig411, RoadSync's online directory, helps truckers in need of roadside assistance find services. The heavy duty repair and tow merchants listed on the directory are exclusively built on RoadSync's network. This free benefit is included for free with your RoadSync Checkout platform that allows you to gain more exposure with new truckers (a.k.a. New customers).
5. 24/7 Customer Service
Have a quick question? Need assistance with your platform? Or have a customer who needs help? You'll be able to reach out to our U.S.-based customer support team 24/7 to get the help you or your customer need! We know callouts don't keep a day-time schedule, so we've got a team ready to help you when you need it!
6. Cloud-Based VS Hardware
Card swipers have long been a staple for many small businesses during the checkout process, but due to COVID, everyone is increasingly more cautious of interactions. While having the hardware to swipe a card is great, having a cloud-based payment solution, like RoadSync Checkout, can allow you to offer contactless payments to keep you, your technicians, and customers safe and 6-feet apart.