Roadsync is excited to announce our partnership with Truckstop.com to offer our product RoadSync Advance in the TruckStop.com Partner Marketplace! The Truckstop.com Partner Marketplace is a secure ecosystem of products, solutions, and integrations built to help partners, carriers, brokers, and shippers keep their businesses moving forward.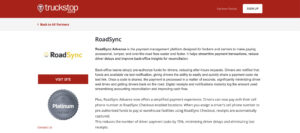 RoadSync Advance is the payment management platform designed for brokers and carriers to make paying accessorial, lumper, and over-the-road fees easier and faster. It helps streamline payment transactions, reduce driver delays and improve back-office insights for reconciliation.
Back-office teams simply preauthorize funds for drivers, avoiding after-hours requests. Drivers are informed that money is available by text message, allowing them to quickly and easily pass on a payment code via text link. The payment is completed in a matter of seconds, significantly reducing driver wait times and getting drivers back on the road as soon as possible.
The partnership between Roadsync and Truckstop.com is just one more way we are working to provide our customers with the tools they need to succeed. We are excited to share this new benefit to our customers! If you are interested in partnering with RoadSync, please visit https://roadsync.com/partners/.